2022 TEDxUW-Green Bay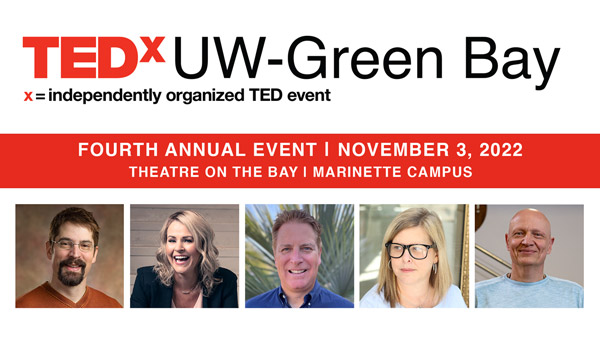 TedxUW-Green Bay Tickets On Sale Now!
Ideas Worth Spreading! TEDxUW-Green Bay will travel to Theatre on the Bay located at the Herbert L. Williams Theatre on UW-Green Bay's Marinette Campus for its fourth annual event. This year's presentations include Sustainable Agriculture, Standing Out at Work, Healthcare and more. Get tickets today!
What is TEDx?
In the spirit of ideas worth spreading, TED has created a program called TEDx. TEDx is a program of local, self-organized events that bring people together to share a TED-like experience. Our event is called TEDxUW-Green Bay, where x = independently organized TED event. At our TEDxUW-Green Bay event, TED Talks video and live speakers will combine to spark deep discussion and connection in a small group. The TED Conference provides general guidance for the TEDx program, but individual TEDx events, including ours, are self-organized.