2018 Speakers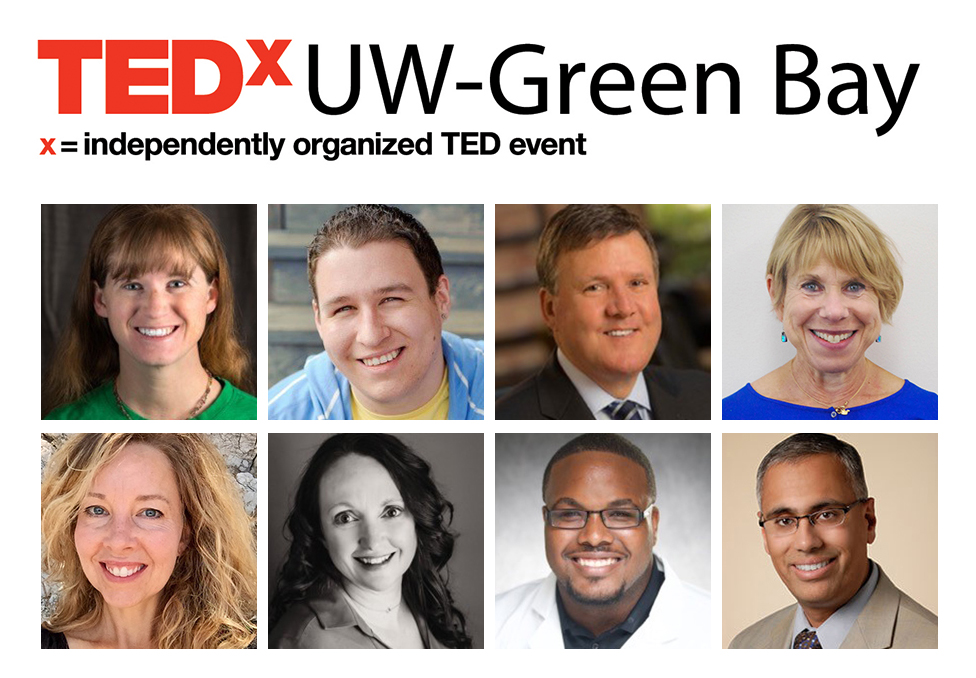 The 2018 theme was RISING.
"We are often faced with barriers and unanticipated challenges," says TEDxUW-Green Bay organizers. "Rising above challenges is the hallmark of resilience and the pathway to a brighter future. The series features eight established speakers discussing various topics." These speakers include the following:
Illene Noppe Cupit
Illene Noppe Cupit is the Ben J. and Joyce Rosenberg Professor of Human Development, Psychology and Gender Studies at UW-Green Bay. She received her Ph.D. from the Educational Psychology Department of Temple University. Her research and publications have focused on college student bereavement, adolescent grief, the influence of the Internet in death and dying, and global issues related to trauma and loss.
Kelly Ellis
Kelly Ellis is the Founder & Fearless Leader of the Greater Green Bay STEM Network, an organization created in 2013 to connect STEM education resources in the region. She is passionate about working closely with community nonprofits. Ellis graduated with a Business Administration degree (emphasis in Marketing) and high honors from UW-Green Bay in 2008. She minored in Studio Arts.
Fred Johnson
Fred Johnson is the Chief Executive Officer and Founder of InitiativeOne. He has created and implemented Leadership Transformation processes that accelerate positive culture change by helping leaders become more authentic, courageous, open and human than ever before. He is passionate about elevating leaders and exponentially impacting the leadership culture of an organization.
Lorenzo Lones
Lorenzo Lones is a neuroscience Ph.D. student at Washington University in St. Louis. He received bachelor of science degrees in Psychology and Human Biology from UW-Green Bay in 2016. Currently, he works in the lab of Dr. Aaron DiAntonio where he studies the molecular mechanisms underlying axon degeneration.
Dr. Ashok Rai
Dr. Ashok Rai is the President and Chief Executive Officer of Prevea Health and is committed to the health and wellness of local communities. His passion to redesign health care in the U.S. embraces the movement from fee-for-service methods of payment to value-based care, which rewards health care organizations for their work in preventive health care and encouraging patients to live healthy lifestyles — and not for the amount of procedures they perform.
Anne Schauer-Gimenez
Anne Schauer-Gimenez is the Vice President of Customer Engagement and co-founder of Mango Materials, a startup company that uses biogas (methane) to feed bacteria that manufacture a biodegradable polymer. She holds a bachelor's degree in Environmental Science '00 and a master's degree in Environmental Science and Policy '02 from UW-Green Bay, along with a Ph.D. in Civil Engineering from Marquette University.
Dan Terrio
Dan Terrio has inspired countless youth and adults from all walks of life with his story of perseverance, strength and determination. Terrio began his motivational speaking career while recovering from injuries sustained in a car/train accident that left him temporarily confined to a wheelchair. To date, he has traveled to all 50 states presenting his inspiring story from growing up on an Indian Reservation to working in Washington D.C. He holds a bachelor's degrre in Interdisciplinary Studies '12 and a master's degree in Applied Leadership for Teaching and Learning '14 from UW-Green Bay.
Jennie Young
Jennie Young is an Assistant Professor of English and the Director of the first-year writing program at the UW-Green Bay. She has a Ph.D. in English from Case Western Reserve University in Cleveland, Ohio. Her research interests include rhetorical theory and the rhetoric of education, specifically as it applies to high school students. She is also interested in creative nonfiction and its place in English composition programs and has published articles in both academic and creative journals.
More About The Event
Along with the eight speakers, TEDxUW-GreenBay also includes two coaches that help shape each discussion to fit TEDx standards. This year's coaches include Danielle Bina and Shauna Froelich, two lecturers of Communication at UW-Green Bay. Bina offers experience with media and public relations training and is "excited to help the speakers share their stories in a compelling and engaging way." Froelich holds experience in public speaking and hopes to provide constructive feedback that promotes confident speakers.
The creators and co-organizers for the TEDxUW-GreenBay series include Aaron Weinschenk, Kelli Strickland and Regan A. R. Gurung. Weinschenk is an associate professor and chair of Political Science on the UW-Green Bay Campus. "TEDxUW-GreenBay is going to be an amazing event and is a perfect way to bring the University and the community together! We have a fantastic lineup of speakers who will be presenting ground-breaking ideas on all kinds of issues," Weinschenk said.
Executive Artistic Director for the Weidner Center, Kelli Strickland states, "As a cultural center, we are committed to serving as a catalyst for dialogue and idea sharing. The speakers featured this year demonstrate a willingness and enthusiasm in this community for wrestling with the largest systemic challenges and the more intimate personal ones." Gurung is a UW-Green Bay professor of human development and psychology. Expressing his excitement, he said, "There is a hunger in our community for the type of mental stimulation these talks are bringing. Each speaker brings a perspective and set of experiences that I am eager to see play out in their talks."
Dean of UW-Green Bay's College of Arts, Humanities and Social Sciences Chuck Rybak, also shared his enthusiasm about TEDxUW-GreenBay… "UW-Green Bay strives to deliver knowledge and ideas to our community in as many forms and venues as possible. TedxUW-GreenBay, with its innovative format and timely subject matter, promises to be a forum that is both accessible and provocative."